Volkswagen Wheel Alignment in Davie
Are the tires showing signs of uneven tread wear? Those are common indicators of a suspension that is suffering from misalignment. Misalignment of the suspension can result from worn-out parts, hitting a curb or pothole, or an auto collision. At Rick Case Volkswagen, we can inspect the suspension angles to determine if the wheels are misaligned. We can perform a two-wheel or four-wheel alignment service based on the requirements of your vehicle. Our Rick Case Volkswagen service center is located in Davie, FL, close to Sunrise, Pembroke Pines, Weston, and Plantation.
Two-Wheel Alignment - Also known as a front-end alignment, two-wheel alignment is generally performed on vehicles with a solid rear axle; it involves inspecting and adjusting the camber, toe, and caster angles on the front wheels.

Four-Wheel Alignment - Vehicles with independent or semi-independent rear suspensions will need to have the camber, toe, and caster angles inspected and adjusted on all four wheels; this is also called an all-wheel alignment.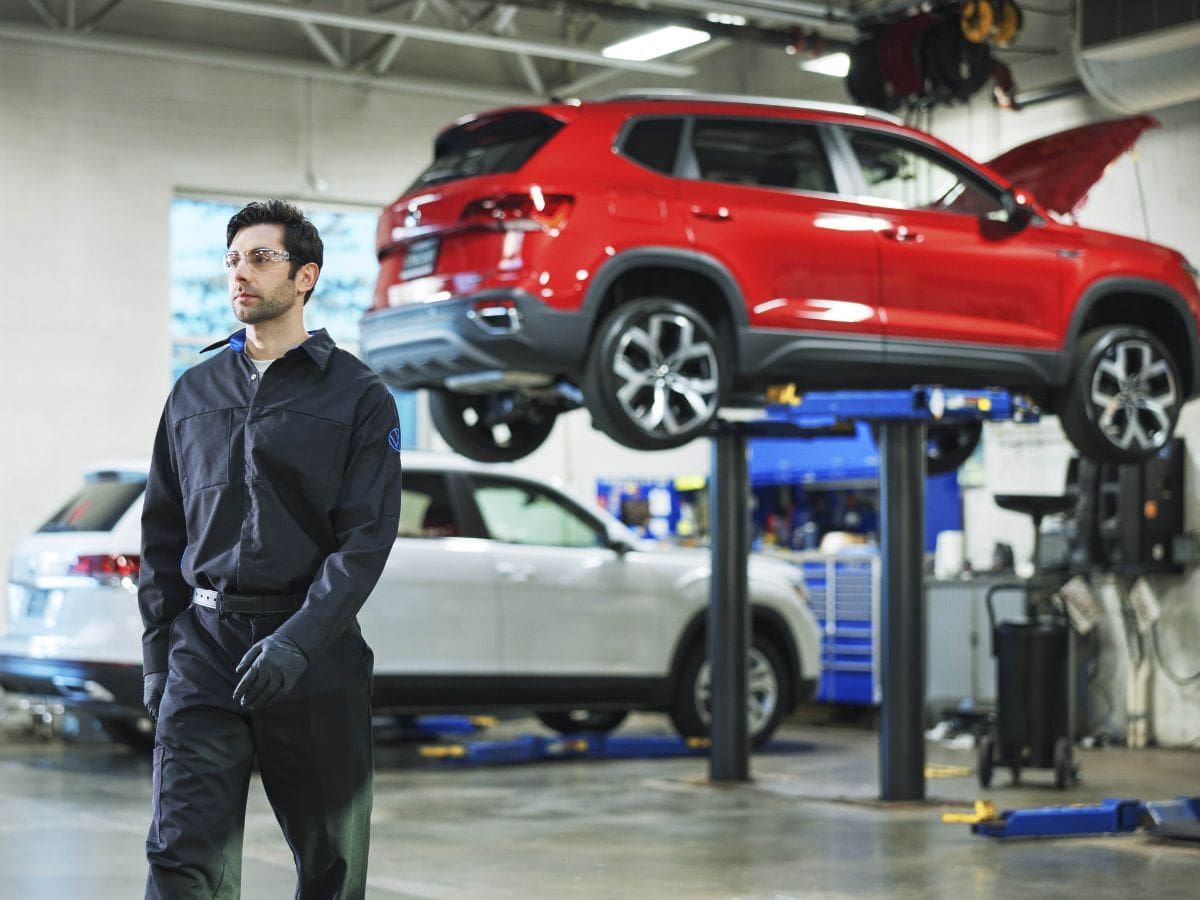 Wheel Alignment Inspection in Davie
In a wheel alignment inspection service, we will use state-of-the-art electronic equipment to precisely measure the angles, including the toe, caster, and camber angles of the suspension. We will compare the suspension angles with the Volkswagen specifications for that model to determine if a wheel alignment is required. As suspension components go through regular wear and tear with time, getting a periodic wheel alignment inspection service is a good idea. If you are getting new tires installed on your vehicle or have been in a collision, it is always better to get the wheel alignment inspected by our certified technicians.
Four-Wheel vs. Two-Wheel Alignment Service
A two-wheel alignment service is more common for larger vehicles such as pickup trucks. This type of vehicle has a rigid rear axle and only requires the front wheels to be adjusted. In a four-wheel alignment, the wheels on the rear axle and front axle are adjusted. We don't expect you to know what type of alignment is required by your vehicle. You can simply bring your vehicle to our service center, and our expert technicians will be glad to guide you. The advantage of getting service at a VW-certified center is that our technicians are highly familiar with all VW models and use VW-approved auto service procedures.
Schedule a Certified Wheel Alignment in Davie
Any delay in getting wheel alignment can cause damage to the tires and other components of the vehicle. We welcome you to bring your vehicle to Rick Case Volkswagen for quick, efficient, and reliable wheel alignment service. You can either stop by our Davie service center during our regular hours or schedule a wheel alignment service with us. For the convenience of our customers, we offer service booking through our website. If you are interested in an overall vehicle inspection, we highly recommend our multi-point inspection service. This service is complimentary and helps identify any issues with your vehicle that require attention.